It's Sunday and I thought I had something else to do today, but I don't. So here I am as usual, lol
Gener8Profit

: excellent newsletter from Jack follows and
I was paid again today instantly, twice :)
Seems to me that Jack has really good plans for his program and sounds like he's got the experience to carry it though our 'slow time' as well. Thumbs Up!
Greetings members,
I wanted to send a small update about the progression of Gener8Profit.
It's at this time I proudly announce that we have joined the highly respected blog/monitor Money News Online (MNO). You can read Paul Abramson's Review by clicking the following link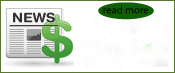 Part of our strategy includes systematically adding key promotional outlets which, in the near future, will include Facebook, Twitter and Skype Chat. We have not failed to embrace any sources. If we are not utilizing them it's because we feel it is not yet time. We plan on being here for a long time and there is no rush. We do not want to saturate the market this early.
If anyone would like to chat with me you might find me on the Shoutbox at MNO, username G8Jack. Hope to see you all there and on the forums.
I would like to personally thank everyone that has been showing their trust and support. Please keep it coming. Remember, the greatest form of advertising is word of mouth.
Sincerely,
Jack Tyler
LatitudePay

: I am so happy and relieved to hear from members and see some paid posts in the forum today. Although it appears not everyone is being paid, at least some are and that's a good sign.
DailySharePro

: unlike yesterday, I had no problem getting to the site and doing my daily surfing.
That's all for now. Don't want to depress you talking about the other programs. (giggle)
OK I'm back. I didn't want to complain tonight but...
ACX claims to be
Advertising Success At Its Best!
It is currently taking approximately less than 24 hours for URL approvals.
And yet, my URL for Gener8Profit is still pending since Nov 17th!
That's hog wash. I just submitted a support ticket.